Place your ads here - they will be shown after I have approved them to be no spam. This may take a while when I am on tour.
Pictures cannot be uploaded but linked with their URL (right click on picture, copy URL) in case they are hosted elsewhere.
For sale
Apr 12.2021 19:54
Team Eager Beaver


We have for sale:

1 pc Green monster alu differential housing
1 pc Humpco alu pinion shaft carrier

Team Eager Beaver
Evert
031611014852
Graphtec GL 820 Datalogger
Mar 21.2021 12:59
Tractorpullingteam Dirty Doz'n


For Sale:

Graphtec GL 820 Datalogger 5.7" inch display

The datalogger will be sold including:
12 teperature sensors and built into a stainless box!!
Specs: 20 channels, +4 alarm channels, weight 900gram,
5,7 inch Display, and many more

Dealer: Located in Breda Holland for more info.
The following pullingteam use this logger: Tractorpullingteam 't Smidje , Tractorpullingteam Green Spirit VII, Tractorpullingteam Backdraft, and many more

We are very happy with the current logger but want to take it to the next level of engine management. Does not have to go, but can go. If you are interested, please email us

https://www.facebook.com/marketplace/edi
pulling parts
Mar 17.2021 19:25
Aadri van der Veeken


Te koop lege versnellingsbak van Ford TW of Ford 9600 ook een achterbrug met klok waar de nodige kilos afzijn van Ford TW of Ford 9600 ook motor 6.6 liter voor informatie of foto's mail wickiepower@hetnet.nl For sale empty gearbox from ford TW or Ford 9600 also rearaxle with klok from Ford TW or Ford 9600 rearaxle is prepaird for tractorpulling and engine 6.6 liter for pictures or information mail wickiepower@hetnet.nl
Prostock Tires
Mar 05.2021 09:45
Luca Fabbri


⚠️ASKING FOR A FRIEND⚠️

A friend of mine who si building a PS, is looking for a set of tires (any brand).
Better with rims.
Obviously the greatest quality at the lowest price! 😅

Mail me at lucaf83@gmail.com

Thank you! 🚜
Turn key engine John Deere
Feb 19.2021 19:38
dick schokkin


For sale: Turn key engine Dark side of the Moon.

Class: 3,6t Farmstock NTTO ETPC
Type: John Deere 4455
Block: type 6404 quoted to 7l.
Fuel pump: Bosch P pump with 14mm plungers with fast controller.
Camshaft: Home made tuned.
Cylinderbushes: Titanium
Pistons: own design
Turbo: Holset HX 60 Billetversion
Intercooler:AirAir Home made.
step file's
Jan 12.2021 20:36
William Pullens


who can help us whith 3d drawings / step file's of parts for designing a component shassis. Were looking for:
drawing sqhd diff
drawing man alu planetaires
drawing 24,5/32 puller tires perhaps on wheels.

drawings can be without inside parts that is no problem.

Thanks Team Spetsnaz
mini-modified
Jan 12.2021 00:16
flemming smed


mini-modified (ex lambada 9) crome-moly chassis with rockwell f-106 rearend
advanced chassis rear aksel housing , billet alu TRB 3member , billet alu TRB diff
Strange aksels , Willwood brakes , carbon fiber rear fenders
chassis new in 2013 , ran season 2013/2014 in US , season 2015/2016 in Hollland , season 2018/2019 in Denmark
will be sold as rolling chassis , 16000 euro
Sattelauflieger zu verkaufen
Nov 30.2020 12:33
no Risk no Fun Team


Sattelauflieger zu verkaufen zum CORONA- Preis !!!

https://www.motorsportmarkt.de/inserat/3
for sale
Oct 08.2020 08:20
Spiritus Raf


Light modefight for sale Speed Spirit , DAF engine 1260 , Holset HX 80 , Sigma 17 mm , ......
Wanted: back axle
Sep 20.2020 21:17
Team Diable Rouge


Hello,

Team Diable Rouge is looking for used back axle to rebuild is limited superstock!

Preference for SQHD center and Franklin planetary.

Please send détails by mail ltp@chlebrun.fr or whattsapp 0033.699.357.079

Thank you
Franklin 4.0 gears for sale
Jul 22.2020 11:26
De vos


New!!

4.0 Franklin Plant Gear, 17 Teeth
4.0 Franklin Sun Gear, 18 Teeth, 16 Spline Axles
Came from SCS Gearbox
FORSALE Tractorpullingchassis
Jun 29.2020 18:53
Tractorpulling team Hurricane


Super steady & ready to run chassis.

High-strength steel chassis 4mm thick.
Rockwell 180E rear axle. Steel carrier and differential housing. Differential on needle bearings. Ratio 3.43/1
Input axle complete with couplers, fits on profab spline.

Planetaries ZF AP12 (4.42/1), 3 sun gears. Aluminum planetary housing and carrier. Light disc brakes, only one run old.

Steel roll cage including seat.
Complete with hitch, wheelie bars etc.
Everything has been checked, ready to run and filled with oil.

Super solid front axle construction, where you can continue with the front axle.

Weight as shown on the photo 1000 kg.

Price for this € 16.500 excl.

Spare parts; crown / pawn wheels (2.91, 3.07 and 3.9), two complete standard differentials, shims, spare coupler, engine mounts etc. For an additional price.

The weights are also for sale +/- 500 kg. Everything approved in accordance with the NTTO / ETPC rules.

Interested? Sent an email to info@emb.nu

For all pictures see our facebook page;
www.facebook.com/pullingteamhurricane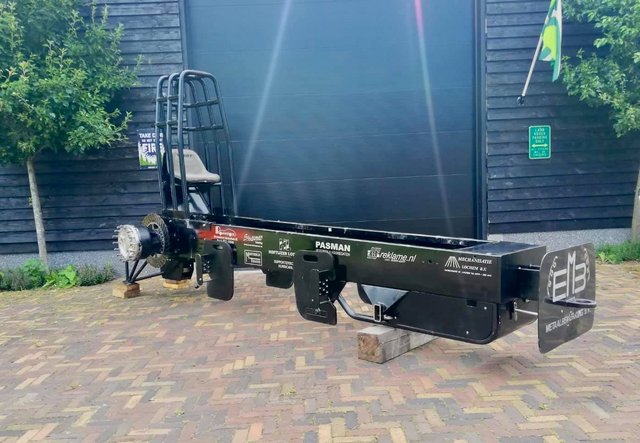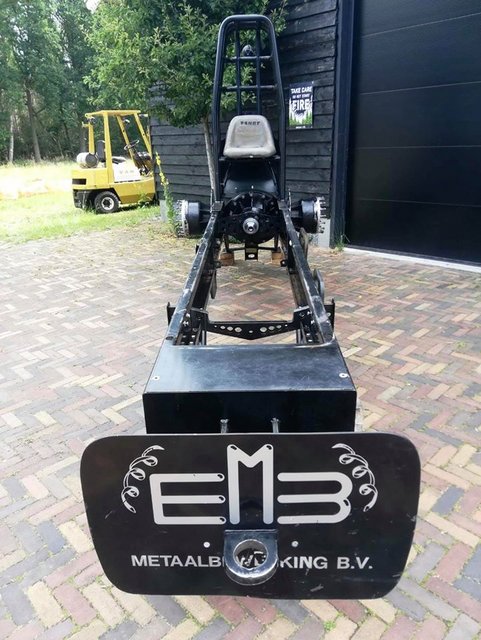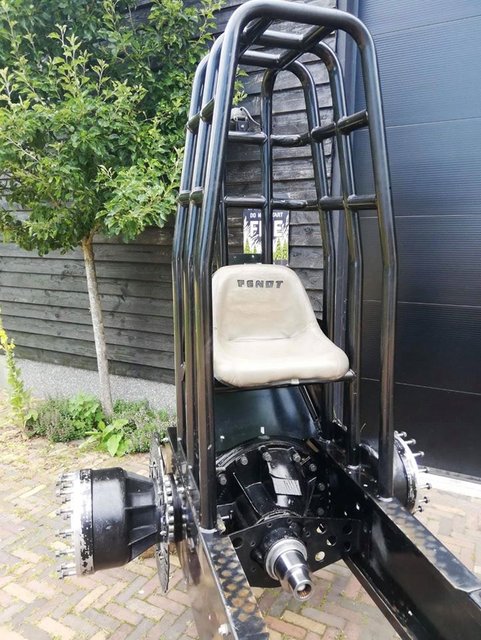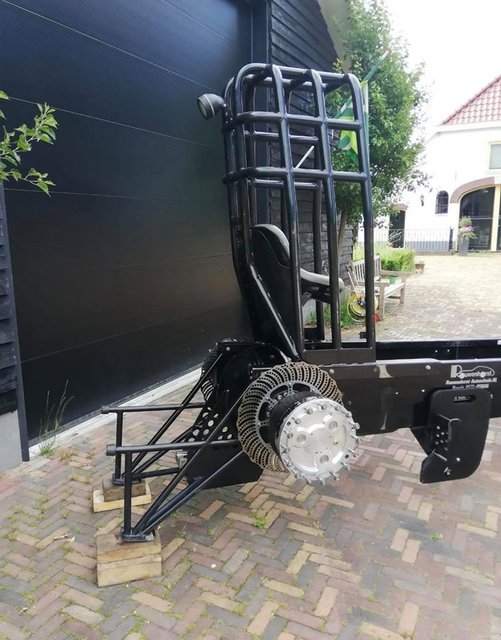 mini puller for sale
Jun 16.2020 18:21
team ghost


Complite turn key 950 kg mini with V12 Rover Meteor as running in 2019. there is also an V12 original engine and 2 rearends
17.500 euro

complite turn key 950 kg mini with V8 rover meteorite engine.
there is also a V8 original engine and 2 rearends
17.500 euro

for image look on the team page there is a link to site at the top.
for sale
Jun 15.2020 22:38
Hans Herrmann


ZU VERKAUFEN/ FOR SALE

Freie Klasse 600kg ( Wild Michi Power 3)

Motor/engine: Fiat 2,8 Liter TDI ( Fiat Iveco)
(Wassereinspritzung und Ladeluftkühlung)

Leistung/engine power hp: ca. 400PS

Kupplung/clutch: 3 Scheiben Tilton
(Neu abgenommen und fertig für Sasion 2019)

Turbo/turbocharger: HX 35

Reifen/tires: Cepek (auf polierten Alufelgen)

Getriebe/gearbox: Eigenbau
Hinterachse/rear axle: Eigenbau (SJ413 mit Außenplaneten)

Inklusive/in addition: Start und Service Equipment
(Externe Starteinrichtung)

Preis: VB

Foto des Tractors, schaue hier: photos.google.com/share/AF1QipOzEcyBymxXugLD7Fpfmt39avOYTqpPM5NjAIARdB-0AiNfcMy2sH92cTu_CI6kqA/photo/AF1QipPBCFAEECIKtv02T8_rvz9nL5dE00MuvaDTBidz?key=V1p6bkMxMlNUSHdIdHZhYUFxN1N6TDdFejFMM0tR

Weitere Informationen unter:

E-Mail: powerherrmann@gmx.de
Racetrailer for sale
May 24.2020 12:30
Max Boskamp


For sale / zu verkaufen:

Rennsportauflieger/Reacetrailer

Daten:

- Bad mit Dusche und Waschbecken
- Küche, Kühlschrank, Backofen, Mikrowelle, Spüle, Abzugshaube, Elektroherd
- Büro mit Schreibtisch, Bürosessel
- Garage für PKW oder Traktor, (h)2,2m x (b)5m x (t)2,5m
- Ladebordwand
- Standheizung, Stromboiler für Warmwasser
- 12V und 230V Bordspannung + 380V + Kabeltrommel ca. 100m
- Wasserversorgung 1200 Liter
- Abwassertank 600 Liter
- Schlafmöglichkeit bis zu 4 Personen + 2 zusätzliche in Garage
- viele Staufächer
- Rampen 4,5m lang, 3t

-> Ohne Zugmaschine

-> Mehr Bilder können per Mail versendet werden

VB 20.000 €

max.boskamp@freenet.de


Fiat / New Holland tractor bas
May 22.2020 21:08
Ron


For sale:

Fiat 880 / 1000 rear end (needle bearing diff pin), gearbox (new end bearings), frame box tube (V) with New-holland T7000 glass fiber hood incl. lights and electric opening frame. Front wheel hubs, mud guards, crower clutch 4plate incl. billet flywheel and dash.
Price €3650,-

Gorinchem the Netherlands
tractorpulling parts
May 21.2020 09:34
m van rooij


mini puller frame met rockwell as en diverse onderdelen en twee sets firestone banden gesneden informatsie m van rooij 0031 0681886081
2 Minis BAE V8 and Griffon V12
May 13.2020 07:01
Maik Straatman


For sale:

# Hateful 8 BAE V8 0.95 to
# Piecemaker RR Griffon V12 0.95 to
# Ducato 3,5 to, hydraulic Twin Rearaxle 10"
# Röhr Titan
# Eicher ED 40
# Schlüter AS 55
# Porsche Master V

All turnkey in very good running condition.
PN for further information, tech data and pics.
Tires 24.5R32
Apr 29.2020 08:34
Lebrun


Hello,

I m looking for one set of used tire 24.5R32. I can consider any offer from top pro puller to cheap puller or used puller 2000.

+33 699 357 079
Thank you
Minipuller rims
Apr 28.2020 00:39
Mad Max Pulling Team


Want to buy rims for pioneer tires 18.4x16.1, make an offer if you have so i can check if offset etc is right.
Tires 24.5R32
Apr 21.2020 21:49
Lebrun


Hello,
Im looking for tires 24.5R32.
Can consider any offer from pro puller/puller 2000/ to puller old style
Send price and detail to ltp@chlebrun.fr or 0033.699.357.079

Thank you
Driveline shielding tethers
Apr 21.2020 20:56
Joker Team


For sale:
driveline tethers for new safety rule, effective from 1st of May.
Belt fulfill the measurements of the rule, and are available in different colours, Black, Blue and Red on picture, also others like Green, Yellow, Orange or White on request
Also loops available, nonrusting iron, two different versions
See pictures for design and mounting examples
Price for belt each meter 5 Euro
Price for loop each 8 Euro

Private sale from Joker Team, no warranty
Greets Claus


Minipuller velgen / rims
Apr 09.2020 16:27
Jan-WIllem Legebeke


Gezocht: Minipuller velgen. liefst rond 19" breed.

Wanted: Minipuller rims. About 19" wide would be nice.

Groet / greetings, Jan-Willem Legebeke.
John Deere 4240 Parts
Apr 06.2020 21:35
Meyer Nico


Zu Verkaufen :
Getriebe 16/4 Quadrange 1600€
Achtrichter 2 Stück 500€
Kupplungsgehäuse 500€
Motorhaube 7270R inkl Setenteile ohne Scheinwerfer 1000€
Cockpitt und Pedalerie 350€
Hx 82 Turbo Billet 97.50/152 -28- Turbo ist Neu! 2600€
Überrollkäfig HxBxT 1,25m x 0,7m x0,7m 350€

Standort: 27383 Scheeßel
Foto gern per Mail
WTB Mitas 30.5 Tires
Mar 17.2020 13:28
Cody


Looking to buy a couple pair of Mitas 30.5-32 Pulling tires, already cut. 931-212-3602 or c_adgent@yahoo.com
Light mod diesel Transmash
Mar 08.2020 09:51
Team D Power


For sale
D Power Light mod
Transmash 38,8 L diesel
Bosch P pump 13 mm max 1000 cc
Bosch injectors 5x0,58
stronger valve springs
2x Holset HC5a (HX80 size)
Webasto 23 kW heater and 16 bar compressor
2 spare engines can be included
Alliance tires
Mar 06.2020 20:16
Bas Liefting


Alliance pulling tires 301 Rocket puller 30,5L 32 new! Uncut weights 204 kg
For Sale
Mar 01.2020 20:49
Richard Rockefeller


For Sale: Modified Tractor, can run 2,3,4,5 engines, comes with 3 Chevy's, partial list, Banter rear, Chromoly LB22, F11, 44, SCS, 3 speed Kipply, Dyno Papers. $95K,

Contact for further information. Policypeddler@ottcmail.com
24,5 32 tires double cut.
Feb 16.2020 21:51
Dries Aerts


Double cut tires 24,5 32 10ply
Very Nice tires.
9mm
3200€

0032478790655
sigma pumps
Feb 15.2020 02:38
Arjen


3x sigma pumps for sale

2x 8 cylinder
1x 6 cylinder

all standard pumps.
FK Tractor 3,5 to
Feb 13.2020 16:02
Manfred Obruly


Günstig wegen Teamauflösung zu verkaufen:L'Aspirateuer FK Tractor 3,5 to, 3x Isotov TV 2,
Puller 2000, Midwest-Alu, bei Interesse kurzes Mail!
Turbinenabnahme wird noch gemacht! Fertig für Saison 2020
Puller 2000 30.5
Feb 12.2020 00:10
Aftermath tractor pulling


For sale I have one set of puller 2000 30.5 on Midwest rims Franklin bolt pattern very good condition
Pm for more info or call
Dan 07791527935
dan.aftermath@yahoo.com
Want to buy
Feb 10.2020 18:10
Erkka nisonen


Do you have or do you know anyone that would have these parts used in stock.

BBC Chevy Blower manifold for 14-71blower, std deck or tall deck

6inch magneto offset drive for BBC tall deck that would Be usable with Mallory
Rear axle complete
Jan 27.2020 23:18
't Smidje team


For sale
Complete rear axle currently used in light mod tractor "t Smidje"
Includes;
- 6mm steel home made housing
- diff. Rockwell SQHD 3.55 ratio on needle bearings
- aluminium Mercedes/MAN planetary's 3.95 ratio, steel carriers
- brake disks
- drive shafts
- hook assembly / construction
- can be sold with home made reverser
Email for pictures, price or details
Bandit parts for sale
Jan 22.2020 19:33
Eurol Bandit Team


Bandit parts for sale, check our facebook page for pictures:

https://www.facebook.com/pg/eurolbandit/photos/?tab=album&album_id=1168721039893082

1 complete set 2007 Veney alcohol cylinder heads, €2000,-
2 sets of Morosso Valve Covers Hemi, €150,- for a set.
3 sets of Dan Olson exhausts, €100,- for a set
1 two section fuel pump.
2 polished 14"side rims, Franklin Planetaries (so only the polshed side), €250,- for a rim.
1 set rear fenders, 36 KG,
Several Rockwell gear sets.
Several Clutch parts, for low prices
Several ignition bases, for low prices
Several fuel pomps, for low prices,
Several shut off or trottle cables
Second hand valves, cam shafts, rods, etc.
2 sets of Veney fuel cylinder heads with Valve covers and rocket stands, €150,- for a set
Several oil pumps wet sump €100,- each.
Keith Black stage 7 engine raised cam.
Keith Black stage 10 engine raised cam.
Fast gear differential (Green Monster produced) for Rockwell rear axle. €4500,-
Several drive shaft axles and couplers, also for connection 2 blocks crank to crank.

For more pictures of the parts visit our Eurol Bandit Facebook page and look in the used parts map. Sent personal message for more info when you have serious interest.

Team Eurol Bandit
Mail: bandit99.com@gmail.com
Super Modified Tractor
Jan 22.2020 15:50
Brent D Nation


Tractor chassis is all Engler crome-moly.
Engler cross boxes.
Titanium bell housings.
Three disc clutches.
Magnesium planetaries.
Firestone pullers are Pristine condition.
Engines are 557 Ken Veney engines.
SSI 871 blowers with all intake mods.
Engines are dry sump with alcohol evaporaters.
Veney injectors.
Racepak data logger with dash.
Tractor is 100% complete and ready to start!
195,000 us dollars.
the challenger
Jan 14.2020 22:25
Gabriel Sintmaartensdijk


€1750
2 disk 8 inch clutch Mollinari
1 season used short runs 2017
hemi bolt pattern
inspectes by ntto and ready to use for 2020

€250
1 set rims mini unlimited tyres 18.4-16.1

€350
ring pinion ford 9.5 inch ratio 3.6
3 runs used


foto's mail to: pullingteamthechallenger@gmail.com
call : arwin de klerk  +31655723954  
mini puller for sale
Jan 14.2020 20:34
team ghost


Complite turn key 950 kg mini with V12 Rover Meteor as running in 2019.. 17.500 euro
for image look on the team page there is a link to site at the top.
Columbus Billet 17 mm pump
Jan 10.2020 00:11
Søren Nærland


Columbus Billet 17 mm fuelpump for sale.
Very good condition, ca 25 runs since new.
Set at 1950cc
Serviced before last season.
Send e-mail for pics
€ 10500,-

Soren Nærland
Loaded Deere Pullingteam
+47 99235474
For Sale
Jan 06.2020 10:34
Josef Ries


Wolpertinger 3,5 t Modified

Motor: V12 Rolls Royce Griffon
37000 ccm - 3500 PS - 2,8 bar LD
Afgas Injection-Pump + WM
Zündung: Mallory Supermag V
Reifen : Firestone 30,5 x 32
Preis : VB - Anfrage
Achse: Magirus / ZF

Fotos - mail: josef_ries@web.de
WhatsApp : ++49 1703218842
CDS sigma fuel pump 16mm
Dec 27.2019 18:52
Broeks


For sale

CDS sigma fuel pump 16mm
In good condition.
For pictures and other information send a email to broeksremco@gmail.com.
Cougar 950 Mini Modified
Dec 24.2019 07:09
Andersson / Evans


Cougar mini modified for sale
Would like to sell complete, but it might be okey to sell engine and chassis seperately.

Chevrolet 572 cui
Big Chief heads, SSI 14-71 Hi-Helix blower, Carrillo pistons, Carrillo rods, KB Olds block, MSD 44, Waterman fuel pump
Eagle 2-disc clutch, Bowell aluminium bellhousing, Ford 9" rear, IH planeteries with aluminium housing, reverser, Wilwood brakes, Docol chassis and R.O.P
2 sets Pioneer tires on aluminium rims, starter with Optima batteries.
Race ready with new rods, new piston rings, new bearings, new ring/pinion, everything checked and prepared to pull, including spare parts.
Wannted: aluminium rims
Dec 22.2019 21:11
Lebrun


Hello,

I m looking for one set of rims (can consider offer for tyres +rims).
24.5R32.

Send pictures and détail by phone whatsapp or email.
ltp@chlebrun.fr 0033.699.357.079

Thank you
SQHD SLHD Ring and Pinion
Dec 19.2019 21:59
Henrick Wijnne


For Sale

SQHD SLHD Ring and Pinion
ratio 4.63
Ex Red Attraction

Price: 400,- euro

+31611992101
iessel diesel parts for sale
Dec 19.2019 20:25
Erik Meijer


Te koop:
- 3 sets tandwielen 45 mm. breed, 0,97/0,92/0,87:1 Vreemann . Passend in Ford 8600/9600 TW op de 4 de versnelling.
- Set klepveren 85 kg./lichtgewicht veerschotels / klepspieen/ inlaatkleppen passend op Ford 4/6 cil.
- Verslepen nokkenas 6 cil. Ford (Limited SuperStock).
- inlaatspruitstuk komma vorm
- uitlaatspruitstuk center.
uitlaatspruitstuk origineel TM 6 cil.
inlaatspruitstuk origineel TM.
IHC Parts
Dec 15.2019 10:14
Markus Koop


Zu verkaufen:
Geschliffene IHC 6 Zylinder Nockenwelle
Bearbeiteter IHC 6 Zylinder Zylinderkopf

Die Teile wurden in einem IHC D358 verwendet.

Mehr Infos per Mail: pulling@koop92.de

For sale:
Regrinded IHC 6 cylinder camshaft
Flowed IHC 6 cylinder cylinder head

The parts where used in an IHC D358.

More info via mail: pulling@koop92.de
Aluminium Rims
Dec 09.2019 21:55
Gonzague


Hello,

I m looking for one set of aluminium rims 24.5R32. Franklin bolt pattern is better. I also consider offer with tyre.
Please send me pictures and price by email ltp@chlebrun.fr or 0033.699.35.70.79

Thank you,
FOR SALE TWD Dr. POWER stage V
Dec 02.2019 14:09
Pieter Admiraal


TWD Puller Dr. Power stage V
John Deere starttrekker, reservedelen en toebehoren.

Bouwjaar 2010
Gezet stalen frame 3mm
Body BMW 3-serie E21
Rockwell achteras
Mercedes plantairs
SCS Reverser
Ford SVO motor (deze is gesneuveld eind seizoen 2015)

Bieden mag.

Meer info via:
pr@autobedrijf-admiraal.nl of bel tijdens werkdagen 0187-641954

lh3.googleusercontent.com/-dH2h67aSDUc/VcCXWuO5vQI/AAAAAAAB4OI/ryFARijAk4coBugMTxzN8G4sw_RwR7hhwCHMYBhgL/s800/176%2BMPM%2BDr%2BPower%2Bstage%2BV.gif
for sale
Nov 27.2019 20:10
Team Ghost


Complite turn key 950 kg mini with V12 Rover Meteor as running in 2019.. 17.500 euro

Also 2 x V12 Meteor only engine block with crankshaft and connecting rod 800 euro

Also turn key mini with V8 Rover Metorit and kopressor
Mini mod parts
Nov 27.2019 19:31
stefan kronvall


I have: Roll over protection, wedge frame (channel chassie)